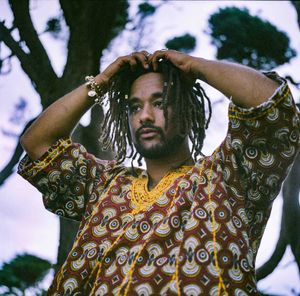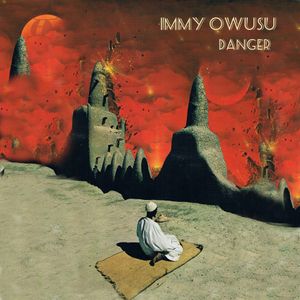 "The very definition of culture clash" - Don Letts BBC 6 'Culture clash' Radio
'Afrodelik' music that fuses Psychedlia, Zamrock and West African Highlife. Hailing from the Australian surf town of Torquay, Immy grew up living and learning in two worlds; the coastal rock scene and the West African culture of his Ghanaian roots. His Caucasian friends consider him quite 'ethnic,' his African family thinks he's far too 'bogan' and his music reflects the melting pot of all the pieces that put him together. Wishing to explore the origins of Rhythm, Blues and Rock 'n' Roll, in 2016 he travelled to Ghana to study under his grandfather, Koo Nimo, a highly renowned Ghanaian Hi-Life musician. Delving into the Afro styles of Dagomba and Palm Wine Hi-Life, he returned to Australia with an electric brand of 'Afrodelik' fusion.
During the 20-21 lockdowns he holed himself up in a caravan deep within a bush property out the back of Bells Beach, took up surfing and wrote songs with Liam McGorry of Ex-Olympian/Dorsal Fins. 
This collaboration resulted in his new singles 'Mantra' and 'Brown Supremacy,' which were released by Hopestreet Recordings in early 2022 and have received rave reviews and substantial airplay around the world including on BBC6, NPR, Worldwide FM, Double J, NTS, KEXP, Bandcamp Weekly and more and was included in mixes and playlists by Dangermouse among others. 
His debut album 'LO-LIFE!', which involved members of Surprise Chef, Cactus Channel and Senegambian Jazz Band is due to be released in mid 2023 via Hopestreet Recordings.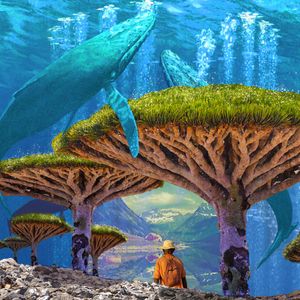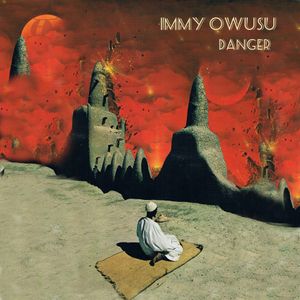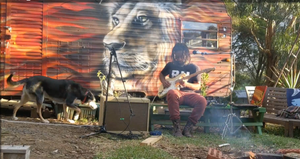 "

GUARANTEED TO BE ONE OF THE MOST UNIQUE AND INDIVIDUAL LOCAL SOUNDS YOU'VE HEARD. "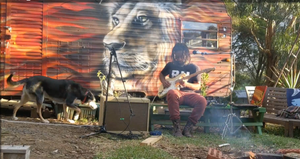 "

Immy Owusu came on the radar of the festival in 2018 and we were thrilled to program him and his band as a part of the 2019 Port Fairy Folk Festival. Their performances were truly engaging across a variety of stages with capacities ranging from 800 to 2000+. Their enthusiasm is infectious and they truly entertained our wonderful and diverse audience. "
— Caroline Moore, Port Fairy Folk Festival Program Director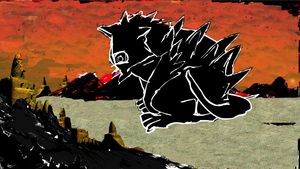 Afrodelikizm:  
I grew up listening to my parents' Ghanaian hi-life music like Afro Moses and Grandpa Koo Nimo, but I spent most of my time moonwalking with my brother to Michael Jackson.  
As a kid growing up in East Melbourne I got into spittin' verses from 50 Cent, 2Pac and Eminem with all my multi-ethic friends. My best friend was from Iran, my other best friend was from Jordan. My first crush's family was from Italy and my second crush from Malaysia. 
I was 11 when my family moved to Torquay and I found myself maybe one of two brown kids at a school of Anglo-Saxon and Dutch heritage kids. 
I fell in with friends that listened to Korn, Metallica and Nirvana. The shredding guitar solos by Eddie Van Halen on Michael's "Beat It" helped my tolerance playing "Sweet Child O' Mine" as a drummer in EVERY garage band I joined. 
Three important albums came out in that defining year I moved to the coast: Red Hot Chilli Peppers' Stadium Arcadium, Wolfmother's Self Titled Debut and Black Eyed Peas' Monkey Business. Chad Smith's funk grooves, Andrew Stockdales' lyrical imagery and Will I Am's rap flow and production are my musical foundation to this day.  
Wolfmother naturally took me to Led Zeppelin. The controversy around Led Zeppelin took me to the early music of the African Diaspora. This led me back to Ghana to study with my Grandfather Agya Koo NImo.  
I originally went there to study Kette and other traditional drumming styles. Sadly the Ashanti Queen Mother Nana Afia Kobi Serwaa Ampem II had just passed. Out of respect a ban on drumming was in place for the months I was there. Instead Grandpa taught me his famous "Palm Wine Hi-Life" guitar style based on Dagomba and Samba. I learnt how African music had gone to the new world, and returned as latin, Jazz, Blues and Rock music to influence the music of Africa once again.   
After the release of my first EP I found myself lost, trying to impress people's idea of what they thought I should sound like. I tried to explain how I wanted to make "Afro-Rock" and Australians scratched their heads and kept calling my music "Reggae" and not being able to pronounce Owusu.   
In a sudden coincidence I happened to stumble accross the movie "Afro-Punk: The Rock 'n' Roll Nigger Experience." These were people like me, Pan Africans who had grown up in a "White Neighbourhood" listening to "White Music" feeling isolated from the rest of the Black American community. From then onwards I decided to dedicate my music to anyone (regardless of their shade of skin) who felt isolated in a culture felt not entirely their own. 
My music is for those disconnected from their heritage and stuck inbetween many others.  
My music is for you.  
Also coincidentally a girlfriend at the time showed me some music from a 1970's Zambian band called Witch. "You're trying to make Afro-Rock, these guys made Afro-Rock." That's how I found Zamrock and West Afro Psych like Monomono, Amanaz, The Funkees and The Hykkers. These were africans trying to emulate The Rolling Stones and Beatles music that was being shipped to them from the Western world. It was originally music from Africa, half remembered by African slaves and appropriated with the colonial diaspora, appropriated by White America and appropriated back again by Africans. 
Finally appropriated by me, a mixed race Mulatto Auzzie trying to find his identity.  
What a journey to get to where I am.  
With my debut single 'Danger' I started to relax. I started to make the music I wanted to make. Heavy percussion and buzzy shredding guitars. Layered mixolydian Hi LIfe vocal harmonies and rhythms that call and are answered.  
I call it Afro-deli-k: 
My African Roots. 
My Psychedelic Space Of Mind. 
My Rock Heritage.   
I can't wait to create what happens next and I hope you are along for the ride.  
With Kindness  
-Immy 30th September 2020